The Science of Nocino (part 6)
OK, I need to finish up this treatment of the Science of Nocino.  When last we met, I was discussing  some of the findings from research on the best time to harvest walnuts for nocino and what those unripe walnuts contain from a chemical analysis.
Jakopic, et al (2007) replicated previous research that demonstrated earlier harvest to be superior to late harvest of unripe walnuts (June 30 vs. July 7) with respect to
overall phenoic content of nocino. They also investigated a variable that probably wouldn't have been an issue in the Middle Ages: the differences between two different cultivars of the Juglans Regia: Frankette and Elit. Frankette was a better choice due to its phenolic profile.
In another study, Jakopic, et al (2008) found that steeping in a 40% alcohol solution was superior to steeping in a much higher alcohol solution (96%).  Without getting into all the details of the phenolics involved, the study found that the best phenolic profile resulted from the lower alcohol concentration.  This, too, is probably significant for the connection of the modern research to the Middle Ages.  It is likely that the alcohol content of Middle Ages was considerably lower than the 96% and closer to the 40% based on my reading about distillation.
Finally, Cosmulescu, et al (2014) investigated phenolic profiles of green walnuts in 70% and 40% alcohol solutions.  However, they added another condition in which the steeping of the walnuts occurred in a 40% alcohol and sugar solution.  As expected, the higher alcohol content led to the highest extraction of phenolic compounds. They concluded that the 40% alcohol and sugar solution was a reasonable alternative because its profile of phenolics was better than a 40% alcohol solution by itself.
So, what do I take away from this research? The traditionally "best" time to harvest green walnuts on the Feast of St John (June 24) seems to be an ideal time according to the research. Harvesting by June 24 and possibly even a little earlier yields preferable levels of phenols and easier walnut slicing due to the walnut shells being softer.  Even a couple of weeks after the 24th seem to reduce phenols significantly and increase the force necessary to slice the nuts. This seems to apply to the European climates where nocino is a traditional beverage.  Other climates may differ.  The walnuts I purchase from California arrive at my doorstep in late May.  Based on my experience with those, I suspect that waiting until June 24 to harvest California walnuts would yield nuts whose shell is too hard to cut.
It also appears that a moderately strong (40%) alcohol content works well for steeping the green walnuts.  While higher percentage of alcohol volume may extract more phenolic compounds, the more modest 40% solutions used in several studies seems to work out quite nicely in a finished product. Many recipes found online suggest using very high volume steeping agents (e.g., Everclear).  Using a standard neutral spirit such as vodka should work very nicely instead of the brain-numbing high volume solutions. As I mentioned earlier, my reading of the early distilling methods suggests that walnut liqueurs made in "Period" likely contained something similar to the lower alcohol solutions mentioned in these studies.
I am looking forward to my batch of green walnuts that will arrive in late May.  I really want to see the effects of three different steeping solutions: vodka (as my standard), grappa, and red wine.  Should be fun!!!
Happy sipping!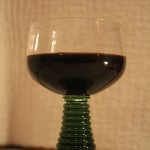 Sources
Cosmulescu, S., Trandafir, I., Nour, V., Ionica, M., & Tutulescu, F. (2014). Phenolics content, antioxidant activity and color of green walnut extracts for preparing walnut liqueur. Notulae Botanicae Horti Agrobotanici Cluj-Napoca, 42, 551-555.
Jakopic, J., Colaric, M., Veberic, R., Hudina, M., Solar, A., & Stampar, F. (2007). How much do cultivar and preparation time influence on phenolics content in walnut liqueur? Food Chemistry, 104, 10-105.  doi:10.1016/j.foodchem.2006.11.008
Jankopic, J., Solar, M., Colaric, M., Hudina, R., Veberic, R., & Stampar, F. (2008). The influence of ethanol concentration on content of total and individual phenolics in walnut alcoholic drink. Acta Alimentaria, 37, 233-239.