Barrel Project Update (9/2019)
This project began with an idea in early 2017. I described the intended project in a post in March of that year. Since that time, I posted several updates (see posts here, here, here, and here). The project experienced a few  hiccups along the way, but it is nearing the end. Anyone who does not wish to read all of the updates can get a sense of the progress with the following chronology:
June, 2017 – Simone constructed 2+ gallons of Nocino with Persian walnuts using brandy as a steeping medium (I was off at Lilies War when the walnuts arrived from California and they had to be processed quickly!) The nocino was transferred to the barrel on November 10, 2018 after being stored since its construction.
October 20, 2018 – I brewed an imperial stout that was to be conditioned in the barrel upon removal of the nocino. I kegged the 5gal batch
February 23, 2019 – I siphoned the nocino from the barrel into glass jars and added the stout to the barrel along with a package of Safale S-04. By March 8, the airlock showed fermentation action.
April/May 2019 – It was becoming clear that the nocino/barrel and stout were not playing together as well as expected. I decided to switch gears and and eventually "recharge" the barrel with rye after removal of the stout. Then I intended to brew a Belgian Quad to replace the rye in the nocino barrel.
April/May 2019 – I brewed 5gal of Belgian Quad. I had just finished my 4th eye surgery at that time and mis-read my AA levels on my hops and over-hopped the 5gal batch. So, I brewed a 3gal batch (same recipe) to go into the barrel after the rye.  My plan was to potentially blend the two Belgian Quad batches.
June 2019 – I removed the stout from the barrel and added 750ml of rye (6/24/2019). The rye stayed in the barrel for approximately 2 weeks. The barrel was turned on a regular basis to expose it to the rye.
June 10, 2019 – I added 2.5gal of the 3gal Belgian brew to the barrel.
August 5, 2019 – This version of the Belgian Quad tasted so good that I became reluctant to add it to any of the over-hopped version. I thought I could dry it out a bit more, so added Lalvin EC-1118.
September 14, 2019 – It appeared that the quad had taken up about as much of the wood as it was going to, so I racked it into a keg, thus finishing the "barrel" part of this project.
So, I have the following beer in kegs: over-hopped Belgian Quad, slightly under-hopped Belgian Quad (.5gal), Belgian Quad out of an oak barrel charged with rye, Imperial Stout out of an oak barrel charged with nocino, and a regular imperial stout.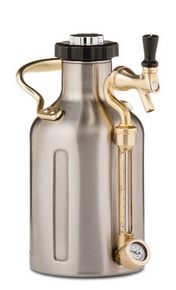 I like to taste my kegged beer with carbonation, but I don't have a good place to easily carbonate at the lower temperature levels needed to carbonate efficiently. So, I purchased an item that I've wanted ever since I saw it on a "Kickstarter" page. I purchased a 64oz uKeg from Growlerwerks. This nifty little keg allows me selectively to carbonate small amounts of beer in my fridge. It works pretty well!
I am currently carbonating small amounts of each of the brews and blending barrel/non-barrel versions of the same styles to get a sense of how to proceed.
My goal for this project was to get experience with actual barrel conditioning as opposed to using oak chips/spirals as I have in the past. While I knew that a small barrel would tend to give up its flavor more quickly than a large one, I found this experience to be useful for determining the timing of addition and removal of liquids. I may have erred by removing things too early. I didn't want to over-oak any of the products. By the way, the nocino from the barrel is now over 2yrs old and tastes very nice.
Speaking of timing, I now find that with some time in the kegs, the nocino barrel version is less noisy that it was a few months ago. In fact, with a little carbonation, it tastes quite nice. It tastes even better when blended with the non-barrel stout. I may have been on to something and didn't know it! 🙂
With time and carbonation, the over-hopped quad version also tastes much better. In fact, at least one person who tasted it said he would take the entire batch in a second. The rye/barrel quad has dried out a bit more and tastes quite nice. The drier quad tastes nice and has actually lost some of the rye flavor that it had early in its time in the barrel. I have yet to carbonate any of that.  I will report back when I do so.
I learned that BWHB can lead to errors (Brewing While Half Blind). The over-hopped version of the quad came about due to an error in reading AA levels for my hops. I had just finished my 4th of 5 surgeries at that point. I hope that I won't be in that position again!
That's about it. The project lives on in the carbonation and tasting of the kegged beers.