Is Nocino "Period"? (i.e., pre-1600)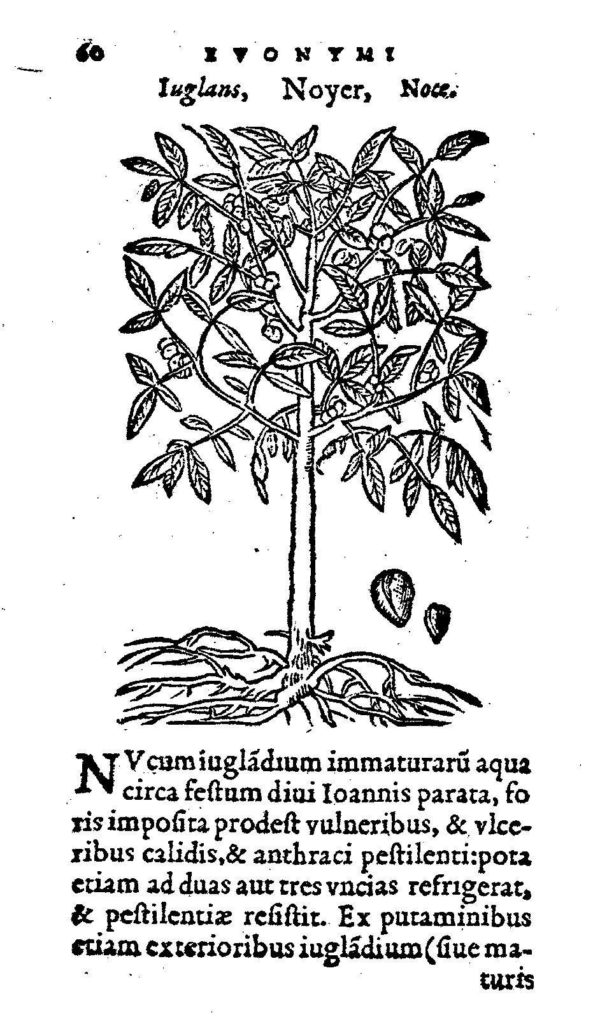 What is Nocino? It is a walnut liqueur, but it is not made with the familiar cerebrum-like nut we love to put into baked goods. It involves using unripe, green walnuts whose shells have not yet hardened. These walnut "hulls" are typically quartered and soaked in neutral spirits and simple syrup along with a variety of adjuncts such as citrus zest, cinnamon, anise, and the like. It is quite commonly found in Italy and Eastern Europe and is used as a digestif. Quite a lot of lore surrounds nocino including when the the walnuts should be harvested, who should harvest them, and in what numbers they should be harvested (see link at the beginning of this paragraph).
In previous posts (Part I, Part II, Part III, Part IV, Part V, Part VI), I described some of the history of nocino, how to make it, and what science tells us about its properties. I find the history of this beverage to be interesting because virtually all sources I've seen, even scientific journals, attribute its origins to at least Medieval times or much earlier (e.g., Roman Occupation). Yet, I have not seen a single citation to an original source that describes nocino with respect to some of its characteristics. I've been searching for such attributions for several years.
Some time ago, I located what I believe to be a reference to nocino or a nocino-like beverage that clears the pre-1600 hurdle. The reference appears in a 1552 publication by Conrad Gessner (you will find at least a half dozen ways of spelling his name), a Swiss botonist/physician who wrote about a host of topics. His publication containing the "nocino" reference is often referred to as The Treasure of Euonymus. A longer title that shows up frequently in the literature looks something like the following:
The treasure of Euonymus conteyninge the vvonderfull hid secretes of nature, touchinge the most apte formes to prepare and destyl medicines, for the conseruation of helth
Gessner published The Treasure of Euonymus in Latin in 1552. A few years later, Peter Morwen, the English clergyman and translator, translated the book into English.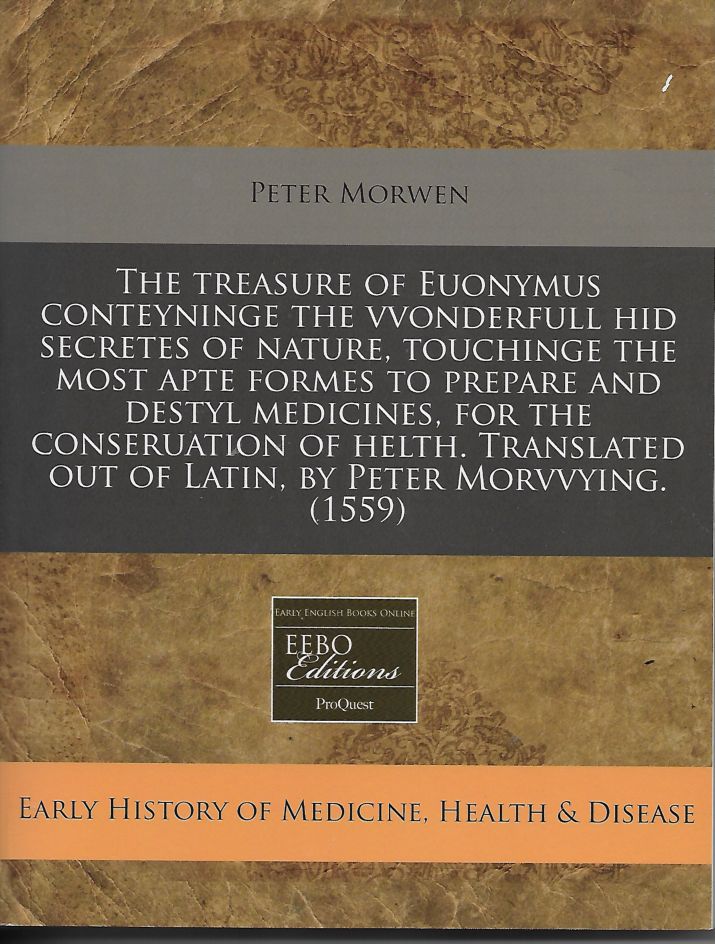 The reference that I believe relates to nocino or nocino-like beverage appears in the graphic at the top of this post as Gessner published it. Morwen's translation of that page states the following:
THe water of walnuts not rype made aboute saint Ihons tyde, ministred without, is good for woundes and hoat byles, and the pestilent anthrax. Also being dronke a two or thre vnces, it cooleth and resisteth the pestilence. A water also is destil∣led of the vtter huskes of walnutes (ether rype……
This quote contains several of the most consistent attributes of nocino. First, it refers to "water," which was a term frequently used to signify a distillation. Nocino traditionally involves a strong alcohol base that results from a distillation process. The term aqua vitae (water of life) appears frequently in Medieval literature. The term aqua vitis (water of the vine) also shows up in late Medieval manuscripts according to Wilson (2006).
Second, Gessner refers to "walnuts not rype." Once again, a major component of traditional nocino appears. Finally, what is meant by "walnuts not rype?" Apparently, those collected "aboute saint Ihons tyde," which is a clear reference to the Feast of Saint John (June 24).
Taken together, this reference seems to refer to some of the major attributes of nocino as we know it today. It does not contain many more specific characteristics that have crept into the lore of nocino (walnuts harvested by barefoot virgins, used in odd numbers for making the beverage, usually 23 or 25 walnuts, walnuts should not be touched with wood, etc.).
The hunt continues for even earlier references to this delicious beverage.
Reference
Wilson, C. A. (2006). Water of life: A history of wine-distilling and spirits 500 BC to AD 2000. Devon, England: Prospect Books.