On Monday of this week, many locals gathered at 28 Springs for the unveiling of a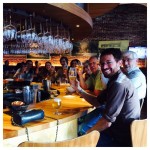 collaboration beer.  The collaboration was between our own Casey Letellier, Chief Drinks Enthusiast at 28 Springs and Ozark Brewing Company.  The beer?  Here are Casey's own words from Facebook.
…a sort of Belgian farmhouse ale, but very modest in strength so we're calling it Garden Ale. Good Czech floor malted pilsner malt with a whisper of wheat, tons of Czech Saaz hops for aroma, one Belgian and one French farmhouse yeast strains. Pale as can be, but lots of character hiding behind the paleness.
The beer is a clean, well-balanced brew.  Quite dry.  Earthy, lemon grass notes are just a few of the wonderful flavors in the 4.2ABV beer.  Well done, Casey!