New Hybrid Yeast Used for Brewing
Hot off the press!!
I intended to update my discussion in my previous post, Adventures in Yeast, with the results of a study out of China. Several researchers found what they believe to be another source for yeasts that may crossed with ale yeasts to produce lager yeast.  However, I just encountered a study in the Journal of Industrial Microbiology and Biotechnology that is very exciting.  Too exciting not to talk about immediately!  Yes, I am a science geek!
This study was authored by Kristoffer Krogerus and several colleagues and it is the first report of beer fermentation with hybrid yeast developed from combinations of S. cerevisiae (a traditional ale yeast) and S. Eubayanus, the yeast isolated in Patagonia.  The latter was reported by Libkind and his colleagues in 2011. The significance of this finding is that S. Eubayanus may be the yeast that combined with traditional ale yeasts in Europe in the 15th century to produce cryrotolerant, lager yeasts.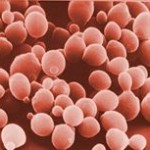 Krogerus, et al. found that these new hybrids performed quite nicely at traditional lager fermentation temperatures (about 12°C). The yeasts also produced robust fermentation, strong flocculation, and desirable sugar utilization.  The answer to the question of how the hybridization occurred in the Middle Ages is still unanswered, but interest in this process may lead to some new and very interesting lager strains. The complete article is available online.
Cited in the Krogus et al. article, but still to be published, is another article on this hybridization by Marit Hebly and her colleagues. So far, I have found only an abstract of the article.  The complete article should be available soon.
Sources
Krogerus, K., Magalhaes, F., Vidgren, V., & Gibson, B. (2015). New lager yeast strains generated by interspecific hybridization. Journal of Industrial Microbiology and Biotechnology.  Retrieved 3/11/2015.
Libkind, D., Hittinger, C. T., Valerio, E., Goncalves, C., Dover, J, Johnston, M., Goncalves, P., & Sampaio, J. P. (2011). Microbe domestication and the identification of the wild genetic stock of lager-brewing yeast. Proceedings of the National Academy of Sciences, 108, 14539-14544.