A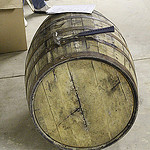 bout a year and a half ago, our local brew club B.O.S.S. (Brewers of Siloam Springs) purchased a Four Roses Bourbon barrel.  The plan was to brew 50 gallons of an imperial stout and put in the barrel for a bit of aging and soaking up the luscious bourbon and oak flavors. None of us had ever performed this operation before!  We learned a lot!
Early in 2014, we all brewed various amounts of the imperial stout using the same recipe. The plan was for a brew that had an OG of about 1.100 and a FG of about 1.020.  We pitched two packets of Wyeast London Ale (1028) for primary.  We pitched an additional packet of Fermentis S-04 in the secondary.  My brew didn't quite make it up to our projected numbers (OG=1.093; FG=1.026 for an 8.9% ABV).
On May 17, we met in the basement of 28 Springs restaurant and we siphoned the stout out of our respective fermenters/kegs into the barrel.  James Spencer of Basic Brewing was on hand to record a Basic Brewing Podcast about the project.  We had agreed ahead of time that we would sample each contribution and determine if it was worthy of being added to the barrel.  No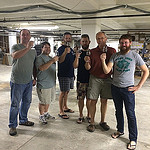 pressure!  All brews were acceptable.  It was quite interesting to taste slight differences in the brews. Some of our members have temperature controlled freezers/refrigerators for fermentation, while others had to use more primitive methods of maintaining target temperatures.  There were also slight differences in mash temperatures.  All-in-all, the brews fell firmly within the typical parameters of an imperial stout.  A great time was had by all!
After several months in the barrel, the stout was extracted.  I was at an SCA event that weekend so my friend Gary Guinn collected my 5 gallon share. The brew turned out to be very nice with most of the characteristics that we desired, but for one.  While I was concerned about "over-oaking", I believe we may have removed the beer a bit prematurely.  The level of bourbon and oak flavor ended up being a little short of what I anticipated.  Still, it is a great brew for a chilly evening while sitting around a campfire or in front of a fireplace.
"Live and Learn!!"
IMG_1466
IMG_1472
IMG_1473
IMG_1487
IMG_1486
IMG_1485
IMG_1481
IMG_1464
IMG_1484
IMG_1490
IMG_1489
IMG_1492
IMG_1483
IMG_1488
IMG_1482
IMG_1476
IMG_1471
IMG_1478
IMG_1477
IMG_1474