A Veteran's Day Tribute – Frank E. Johnson
Dad served with the 353rd Regiment, 89th Infantry Division, from January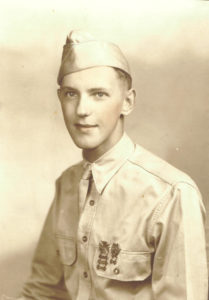 1944 until it was disbanded in June, 1945 after fighting in the Rhineland and Central Europe Campaigns. He was transferred to the 42nd Infantry Division for occupation duty and was mustered out of the service in Vienna in April, 1946.
The 89th Division is listed as a Liberation Unit that was credited with the liberation of the Ohrdruf concentration camp (a sub-camp o
f Buchenwald), the first camp liberated by U.S. Forces in Germany. A week after liberating the camp, Gen Eisenhower toured it with Gens. Patton and Bradley.
The 89th also liberated the REIMAHG Labor Camps at Kahla on April 12 & 13, 1945. These camps used slave labor to produce the Messerschmitt Me 262 turbine aircraft. In May 2006, a commemoration of the liberation was held and a plaque honoring the 89th was installed.
Dad was a member of an anti-tank crew. After the war, he spent most of his time guarding German POWs. He recounted that many of those he guarded were just regular guys like himself who were glad the war was finally over.  After being mustered out of the service in April 1946, Dad "bummed" around Europe for a year before returning to the states and marrying my mother.
A few years ago, I assembled a shadow box of his awards and medals. Unfortunately, he passed before I was able to finish it.