A Veteran's Day Tribute – Erwin A. Schroder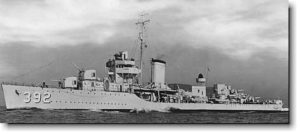 Erwin A. Schroder, my late father-in-law, served on the USS Patterson (DD392) in the Pacific Theater during WWII. The Patterson earned 13 battle stars. Only a small number of the hundreds of destroyers in the Pacific won more.  She would have likely earned more had she not  collided with the USS McCalla (DD488) in the fall of 1943. That collision took her out of action for several months. Erwin was on board for 8 of the 13 campaigns.
While I have described some of Erwin's life and service elsewhere (see the third part of a series "Lords of the Ring"), this entry focuses more on pictures from an album that I recently scanned. (Click on the thumbnails to enlarge).
Erwin cut a dapper figure in his Midshipman's uniform while in Midshipman's school at Columbia University in 1942 and in his dress uniform after earning his ensign's commission.
I also found some shots of him while on board.
Two of my favorite pictures show Erwin and his good friend Chief Knud Sorensen. The first was taken in 1943 when the Patterson was dry docked for the fitting of a new bow.  The second was taken at a ship reunion in the 1990s.
And there were times to relax.  Back in Pearl Harbor there was time for badminton, work in a Victory Garden, and general goofing off.
A grateful nation thanks Erwin and the millions who served, some of whom made the ultimate sacrifice.