Midwatch in Verse: An Update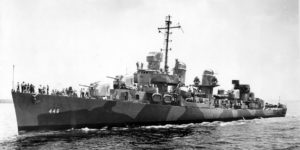 See updates at the bottom of this post. Latest on 2/24/2022

Thanks to all of those folks who have given feedback on this series. If you have not read any of these entries here is the introduction to the concept.
A Deck Log from a US Navy vessel chronicles exacting administrative detail regarding the status of the ship, its location, speed, etc. However, for a four hour period at the beginning of each year, the Officer of the Deck (OOD) is allowed to be creative by writing the Mid-Watch report (0000 – 0400) in verse if they choose to do so. This series highlights examples of this tradition and the officers who posted them. I focus on WWII era deck logs. For a more thorough history of the practice check out this article from the Naval History and Heritage Command.
I have not posted new Midwatch entries for a while. The reason is that I am working on a book with my good friend Gary Guinn about this Navy tradition. Some of the chapters of the book will be expansions of some of the posts found on this blog. Most will be unique.
The book will follow the pattern of posts on this blog with some additions and enhancements. Ship histories and poet bios will be expanded where possible and Gary will provide commentary on the poems. We will use original ship logs/reports more extensively.
Unfortunately, our work has been slowed by the COVID-19 pandemic. We intended to visit the National Archives and scour deck logs of some of the most decorated ships in WWII for midwatch poems. The archives remain mostly closed. We hired a group of local independent researchers to help us locate poems as soon as the Archives opens.
One of the most rewarding parts of this project has been the contact we've had with the families of the men who wrote the midwatch poems. So far, we've been able to connect with several dozen families and provide them copies of their relative's poems. Not a single person knew of the poems' existence. The sheer delight expressed by most of these families has been so rewarding. In return, many families have provided additional information and stories about the poets that we include in the bios.
The project continues!
UPDATE (9/25/2021): We now have a contract with McFarland Books to publish our work. Our researchers have gotten into the National Archives on a limited basis to find additional poems. Unfortunately, access was short-lived and the Delta variant of COVID shut them down again. We continue to press on.
UPDATE (2/24/2022): The manuscript and ancillary materials have all been uploaded to the publisher's servers. We will soon have a finalized title and book cover. In a couple of months or so, there should be a page for the book on the publisher's website.