"Killer" Kane Transfer Verification
(updated 4/3/2019)
William R. Kane (Annapolis '33) was a well-known Navy aviator in WWII. After graduating from Annapolis, Kane served in various posts. The moniker "Killer" came
from his days at Annapolis where he was also called "Babe" (see his Annapolis Lucky Bag photo and text).  On December 7, 1941, Kane was Officer of the Day at Ford Island Navy Air Command.  He was just being relieved from this position when the Japanese attacked.  His family lived in a bungalow that was close to where the USS Arizona was moored on that day. He eventually moved up the ranks and commanded Fighting Squadron 10 on the USS Enterprise; The Grim Reapers. 
Kane eventually rose to the rank of Captain.  He was an official ace and was awarded the Navy Cross and two Distinguished Flying Crosses. He died in a plane crash in 1957.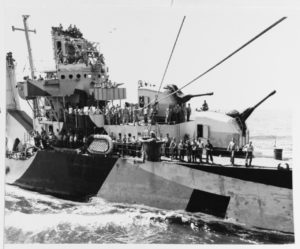 During the Marianas operation in the Pacific in June 1944, Kane was shot down (presumably by friendly anti-aircraft fire), was rescued, and was repatriated to the USS Enterprise.  A picture in the archives of the Naval History and Heritage Command shows Kane's transfer to the Enterprise via breeches buoy.  The caption of the picture reads:
Title: Marianas Operation, June 1944.
Caption: Commander W.R. Kane, USS ENTERPRISE air group commander, is returned to his ship after being shot down over Saipan while directing air strikes, 16 June 1944. Destroyer is probably [my emphasis] USS PATTERSON (DD-392)
I can now verify that the ship transferring Kane was the USS Patterson (Note: The Patterson was wearing her dazzle camouflage at the time of the transfer).  Deck Logs for that day indicate that Kane was picked up by the USS Newcomb and transferred to the Patterson.  He was then transferred to the Enterprise. My Father-in-Law, Erwin A. Schroder (also see this link), was the Officer of the Deck when Kane was transferred to the Patterson.
Legend has it that before Kane was transferred to the Enterprise, the question was asked, "How much ice cream is Killer Kane worth?" Because carriers had ice cream machines and destroyers did not, it was common for destroyer crews to ask for ice cream as a "ransom" for repatriating carrier pilots.
UPDATE: According to Henry Swyer's diary, the USS Patterson got an ice cream machine on 7/20/45. As you can see in the below excerpt from the diary, it wasn't easily installed.