Last night I shared some of the Hard Root Beer that I made a few weeks ago with some friends.  I got some excellent feedback!  I also received some "contradictory" feedback!  It is still early in the process.  I believe allowing the root beer to sit in the keg under CO2 pressure for a little longer might yield beneficial results.
There was some agreement that while Stevia is not an artificial sweetner, it may leave a residual flavor reminiscent of some artificial sweetners. I agree.  I'm hoping that a little more carbonation might attenuate this, given that research shows carbonation to have a dampening effect on some aspects of sweetness percep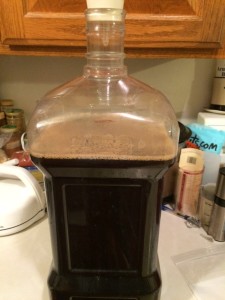 tion.
There was also agreement on the root beer flavoring.  It was well-received.
There was some disagreement on the use of hops. I only used 1/2 oz of Saaz hops in a 2.75gal batch, which yielded very low IBUs. Some thought that I could leave this out and others said to keep it in for future batches.
As we discussed future possibilities, the notion was raised that it might be interesting to do an all-grain batch of my Mild Ale and then add the root beer extract.  I'm thinking that notion sounds interesting.