Each year, Harpoon Brewery has a competition for employees to create a beer recipe.  The winning home brew is featured the following year in their 100 Barrel Series.  The most recent featured beer is actually a braggot.  A Braggot is a very old style of beer that has its roots in Medieval Wales (Bragawd in Welsh). It's a cross between mead and ale.  Very seldom does a commercial brewery make available this style of beverage. Named Braggot Rights, this brew is essentially a double IPA with a rather large of amount of honey added.  I'd love to get my hands on a bottle of this one!
I've made a couple of braggots.  I particularly like using orange blossom honey and citrusy hops. My braggots have been in the 8-9%ABV range and I found that they take some aging to achieve their best flavor.  My orange-blossom special was a favorite.
To my beer-brewing friends: I urge you to give this style a shot.  It is well worth the effort.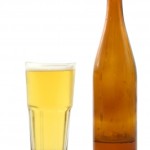 Image courtesy of piyato at FreeDigitalPhotos.net